Welcome to week 2 of One Artsy Mama's
Falling for Crafts Challenge
!
This week's challenge is……a Fall snack or recipe!
It can be something crafty and cute, like some of these adorable ideas:


Donut holes  + pretzels + nutella + sprinkles = DIY acorns that are almost too cute to eat!

How easy would it be to make these…and my little lollipop lover would be a huge fan!

These spiders are made of Ritz crackers, pretzels, peanut butter, and chocolate!  Can I get a YUM?!

These DIY Candy Corn cookies from Days of Chalk and Chocolate are made from
layered dough in 3 different colors…how cool is that?
I just want to reach through the screen and eat one, don't you?

This recipe for pumpkin spice cookies has my mouth watering…
I'll bet they're just as tasty as they are adorable!

…and you know my favorite part of fall: FOOTBALL!
These rice krispie treats from Family Ever After would be perfect to snack on during the big game.
You know, like when my Ravens crushed the Steelers 35-7 last week!
Or, it can simply be a recipe for a good game day snack, a warm drink, or some comfort food that's perfect for a chilly day.
Now it's your turn!
Ready to play along?
Step 1: Recreate one of the ideas shown here, or create something totally new and different.
Step 2: Take a picture of it!
Step 3: If you have a blog of your own, type up a quick post about it anytime in the next week; it can be a tutorial, a recipe, or just the picture of what you made.  Don't forget to grab this button from the sidebar and add it to your post or blog so others know you're participating in the challenge and can come play too!  If you don't have your own blog, skip to Step 4!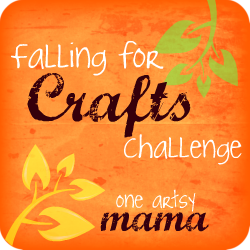 Step 4: Link up below my signature.
If you don't have a blog and would still like to share your idea, send me an email or post your recipe on FB, either on One Artsy Mama's page or on your own and tag me in the post.