Have you met my lovely friend Katie yet?  You might remember her from when she shared her homemade candy tradition with us back in December!  Here's what she has to say today:

My Darling Days is a scrapbook documenting everyday musings, crafts, good eats, Auntiehood, and so much more. I'd love for you to stop by and say hi!
I also want to thank Amy for having me!  Since I've started blogging she has been a great inspiration and so helpful.  Who doesn't love Amy!?  Happy Blogiversary darling 🙂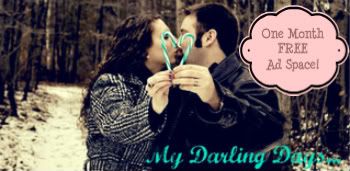 Today, Katie is giving away one month of free ad space on her adorable blog…how cute is that photo of her and hubby?!  We all love free advertising, right?  You can use the space to advertise your blog or your etsy shop.  Don't have one?  You can choose your favorite blog or shop OR a charity/organization you believe in and Katie will put up an ad for that!